!-- Adapte -->















The Raie Manta Club partner of Tendua supports worldwide programs for preservation of Nature and Wildlife.
Yves Lefèvre, animal photographer and diving instructor, fell in love with French Polynesia more than 15 years ago during a trip around the world.

It was in Rangiroa Atoll, his first stop, that he founded the first diving center in the Tuamotu Archipelago,indeed in all of French Polynesia, in 1985.
His passion and knowledge of aquatic fauna, and more specifically of sharks, led Yves to develop a new style of diving: the aquatic safari. Since 1985, the aquatic safari has dazzled thousands of divers. Raie Manta Club, which from the beginning catered to underwater photographers and filmmakers by offering dedicated services, has thus become world-renowned.
The Raie Manta Club has worked with such names as Commander Jacques Cousteau and the Calypso team, Nicolas Hulot from the television series "Ushuaïa", and Luc Besson from the filming of "Atlantis". David Doubilet, Kurt Amsler, Peter Benchley, the BBC, Arte, Thalassa and National Geographicregularly call on the services of the Raie Manta Club for their reports
Yves's camera eventuelly led him to TIKEHAU, the neighboring atoll, where he set up the second branch of Raie Manta Club in 1993 for the richness of the sea floor and the island's distinctive wild charm.

For the last 15 years, Yves has also invited you to discover new undersea encounters with humpback whales in RURUTUIsland, in the Australes Archipelago, his third Raie Manta Club center.
Discover:


The submarine wildlife
Find fishes and mammals the most known for French Polynesia...
Raie Manta Club lat: lng: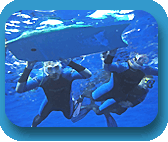 Guided Snorkeling: Exploration
fins, mask, tuba in Rangiroa.
The Shop: indulge yourself!
Cards, books, tee-shirts and polos